Virtual Conference available through November 20
Recordings of the REACH 2018 Livestream are available to watch through November 20 to receive CH!
If purchased, these recordings from the REACH 2018 educational conference are available from your phone or desktop. They are available to view through November 20, 2018.
You are eligible for up to 25 CH when you view and evaluate the sessions, and view and evaluate ARN REACH 2018 ePosters!
For more detailed session descriptions and learning objectives, please refer to REACH 2018 General Sessions and Concurrent Sessions.
October 18-20, Eastern Daylight Time (EDT)
Recorded Sessions for Rehabilitation Nurses
ARN REACH 2018 Virtual Conference consists of the following sessions to advance your career!
Thursday, October 18
8 – 9 am EDT
Opening Keynote Session (101): The Care Reel, Kevin Pearce, former Snowboarder, Co-Founder Love Your Brain
Listen to former professional snowboarder Kevin Pearce relay his experience with traumatic brain injury while training for the Olympic trials. Kevin's recovery isn't just a story of his own perseverance and strength, but also the story of the dedicated healthcare professionals who were with him every step of the way.
11 am – Noon EDT
Advocating the Value and Role of Rehabilitation Nurses (204)
Hear ARN's Government Relations team walk you through the organization's Health Policy and Legislative Agenda and what steps are being taken to address these issues in Washington, D.C.
2:20 – 3:20 pm EDT
Paper Session (205): Bowel/FIM/Dementia
• Hold the Enemas, Please: Ensuring Patients are Ready for Rehab — Deborah Sharp
Learning Objectives:
Decrease the frequency of patients admitted to rehab with constipation requiring treatment upon admission which results in missed therapy sessions.
Monitor bowel activity daily and administer preventative medications and laxatives to prevent recurrence of constipation.
• Improve FIM Outcomes Using a DMAIC Process Improvement — Cassie Austin
Learning Objectives:
Describe two common errors in scoring bowel and bladder admission FIM.
State one intervention that facilitates discovering key drivers of inaccurate scores.

• Understanding Dementia in a Rehabilitation Setting — Angela Allen
Learning Objectives:
Define Alzheimer's disease and related dementia (ADRD).
Discuss the progression and symptom management of dementia.
4 – 5:50 pm EDT
Case Study Session (301): Sexuality
• Military Sexual Trauma Assessment and Rehabilitation in Veterans — Lisa Perla
Learning Objectives:
Describe at least five of the mental and physical manifestations associated with military sexual trauma.
Describe the three most common comorbid diagnoses associated with military sexual trauma.
• One Nurses Journey to her Child's Transition — Lori Ragonese
Learning Objectives:
Define the terms "transgender" and "gender identity."
Identify one to two ways to affirm care for transgender youth.
5 – 6 pm EDT
Paper Session (306): Employee Engagement/Patient Safety
• Creating and Maintaining a Culture of Engaged Employees — Kristie Tschumperlin
Learning Objectives:
Identify at least two strategies of how to initiate a culture of engaged employees in rehabilitation nursing.
Identify the key stakeholders in your hospital needed to create and maintain a culture of engaged employees.
• Patient Satisfaction, Quality Improvement, and Employee Engagement: The Power of Communication — Kasondra Kistner
Learning Objectives:
Understand how hospitals that place communication with staff as a top priority have better patient satisfaction and quality outcomes.
Understand the principles of the "Multiplier" in leadership, and how this type of leader makes smart people smarter.
• Nurse to Patient Staffing Ratios, Outcomes, and Turnover — Susan Blanchard
Learning Objectives:
Explain how nurse-to-patient ratios impact clinical outcomes.
Explain how nurse-to-patient ratios impact nursing job satisfaction and turnover.
Friday, October 19
8 – 9 am EDT
Founders Address (102): Bounce Back — Turning Stumbling Blocks into Stepping Stones, Michelle Camicia, MSN CRRN CCM NEA-BC FAHA
During this session, Michelle addresses evidence-based strategies to enhance personal resilience to help nurses overcome adversity and grow stronger from their experiences. She introduces you to methods that will inspire strength in yourself and others, help you find personal joy and meaning in your work, and create positive experiences despite negative external circumstances.
11:20 am – 12:20 pm EDT
REACH Session (402): At the Heart of the Matter — Cardiovascular Disease Prevention 2018, David Perloff, MD
David Perloff educates you on important cardiovascular disease prevention paradigms.
2:30 – 3:20 pm EDT
Case Study Session (405): Discharge/Service Dogs
• Overcoming Attitudinal Barriers in Unconventional Discharge Settings — Renee Tokarczyk
Learning Objectives
Understand personal attitudinal barriers that exist in one's own practice related to unconventional discharge settings.
Apply creative nursing interventions to patients with plans for discharge to unconventional settings.
• Service Dog: Living Prosthetic — Andrea Dube
Learning Objectives:
Identify physical and psychosocial barriers reduced by use of a service dog.
Identify two ways service dogs promote functional ability and independence.
3:30 – 4:30 pm EDT
REACH Session (501) Patients Moving NOT Moving Patients: Therapeutic Transfers in Neurorehabilitation, Jason Knox, CT C/NDT
Learn how to practice hands-on techniques to transfer your patients with colleagues and discover how you can eliminate the word "lift" from your practice and your vocabulary.
4:40 – 5:40 pm EDT
Paper Session (601): Neurogenic Bowel/SCI
• Bowelentine's Day: For the Love of Neurogenic Bowel — Julia Tokarz
Learning Objectives:
Identify an educational tool to increase nurses' understanding of neurogenic bowel.
Use an understanding of neurogenic bowel to create efficient bedside education for a patient with spinal cord injury.

• Plaudits & Pitfalls of an ARN Chapter's Multicenter Research Project — Elaine Flynn
Learning Objectives:
Understand the value of collaborative research.
Identify two challenges to implementing a multisite research project.
• Nursing Assessment of Bladder & Bowel Symptoms in Neuro-Rehabilitation — Elaine Flynn
Learning Objectives:
Identify two implications for Nursing from the NABBS research project.
Describe the benefits of utilizing the NABBS Picture Book with participants who have cognitive limitations.
Saturday, October 20
8:40 – 9:40 am EDT
REACH Session (701): REACHing the Brain's Potential: Neuroplasticity Principles in Neurorehabilitation, Jason Knox, CT C/NDT
Jason Knox is back to teach the principles of neuroplasticity, review evidence-based practices from research, and walk you through related examples.
10:30 – 11:30 am EDT
Paper Session (802): Safety Culture
• Establishing a Culture of Safety at an Inpatient Rehabilitation Hospital — Anne Hubling
Learning Objectives:
Describe the importance of creating a Culture of Safety in relation to patient safety, employee engagement, and clinical outcomes.
Identify and describe evidence-based safety tools and techniques to promote a Culture of Safety at a rehabilitation hospital.
• Sharing Practices within a Protected Environment: Benefits of a PSO — Stacey Coffee
Learning Objectives:
Explain the functionality of a PSO.
Describe how participation in a Patient Safety Organization may improve a facility's QRP performance.
• Mission Statement and Guiding Principles Excellence: 31 FUNdamentals in Action — Mary Anne Saveoz
Learning Objectives:
Discuss three ways to promote a high-performance culture in a rehabilitation healthcare company.
Identify four ways to deliver legendary service and make a difference in the lives of those you serve.
11:40 am – 12:40 pm EDT
Closing Session (103), Nutty About Rehabilitation Nursing or Just Plain Nuts? Expanding Your Horizons with Humor
Close out the Virtual Conference with comic relief from Comedian Deb Gauldin. She lightens your load with how to address stress and boost morale — personally and professionally.
Virtual Conference Registration Rates
ARN Member: $320
Nonmember: $470
For more detailed session descriptions, please refer to REACH 2018 General Sessions and Concurrent Sessions.
This event is intended to be a live experience for virtual attendees. We encourage you to participate during the Q&A periods as if you are at the meeting.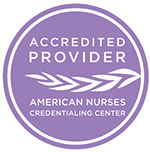 The Association of Rehabilitation Nurses (ARN) is accredited as a provider of continuing nursing education by the American Nurses Credentialing Center's Commission on Accreditation (ANCC). ARN designated this activity for a maximum of 25 CNE Contact Hours. You can earn one (1) nursing contact hour (CH) for every 60 minutes of education time. You must complete and submit an online evaluation form for each session you attend to receive CH. CH available for each session are listed in the schedule of events. Participants can earn up to 12.5 CH for evaluating ePosters.
℞ – Sessions with this symbol address the use of pharmacologic agents in rehabilitation care and may be recognized for credit toward ANCC Certified Nurse Specialist (CNC) and Nurse Practitioner (NP) recertification. These hours may also be reported to your state board of nursing for relicensure. Credit will be designated on attendee certificates. Attendees are responsible for contacting each governing body to determine content eligibility. It is recommended that attendees retain a copy of the conference brochure and program guide, and print the online session schedule for supportive documentation.