ARN Strategic Plan
The ARN Strategic Plan guides the association in its actions as we strive to support our members, their patients, and the rehabilitation nursing profession.
While ARN's strategic plan is revisited regularly, the association's mission and vision remain constant.
Mission: Promote and advance professional rehabilitation nursing practice through professional development, advocacy, collaboration, and research to enhance the quality of life for those affected by disability and chronic illness.
Vision: Improve healthcare delivery through the integration of rehabilitation nursing concepts across the care continuum.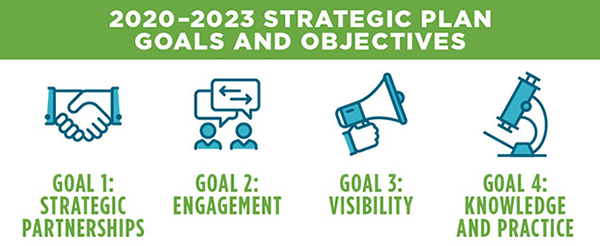 The 2020-2023 ARN Strategic Plan was approved by the Board of Directors during the summer of 2020, and ARN leadership look forward to keeping the membership informed of its implementation regularly, including through updates during town hall meetings, via Member Circle discussion, and through news updates in Pulse.
Download a 1-page summary of the plan
Goal 1: Strategic Partnerships
Establish and expand strategic partnerships that promote nursing principles to improve patient care.
Cultivate, expand, and sustain alliances with interprofessional and influential organizations.
Goal 2: Engagement
Engage members and other stakeholders to advance ARN's mission.
Expand leadership development initiatives to advance committed, high-quality, diverse, future leaders.
Expand services and value add offerings.
Understand and define areas of practice in the rehabilitation profession and develop value propositions that align with needs across career stages/functions.
Expand opportunities for expanding the conversation regarding diversity, equity and inclusion within ARN and amongst its board, committees and member communities.
Goal 3: Visibility
Define and position ARN as the leader of evidence-based rehabilitation nursing, education, and practice.
Champion excellence in the rehabilitation nurse workforce.
Goal 4: Knowledge and Practice
Advance the science and art of rehabilitation nursing through content that is based on research, evidence, and advocacy.
Promote research through financial and educational initiatives.
Facilitate evidence-based practice through innovative educational offerings.
Serve as the primary rehabilitation nursing source for legislation, policy formation, regulatory initiatives, and guideline development.
Advance sustainable growth through the integration of a mission-aligned business model.
Want to learn more? Download an even more detailed version of this plan