Reach Decision Makers with ARN
Our Association of Rehabilitation Nurses (ARN), industry partners are front and center with over 4,500+ of our members. Connect with the rehabilitation nursing community to promote your products or research. It is vital that rehab nurses are aware of all the latest products, therapies, and services to help continue to improve their practice and allow their patients to reach the maximum level of success.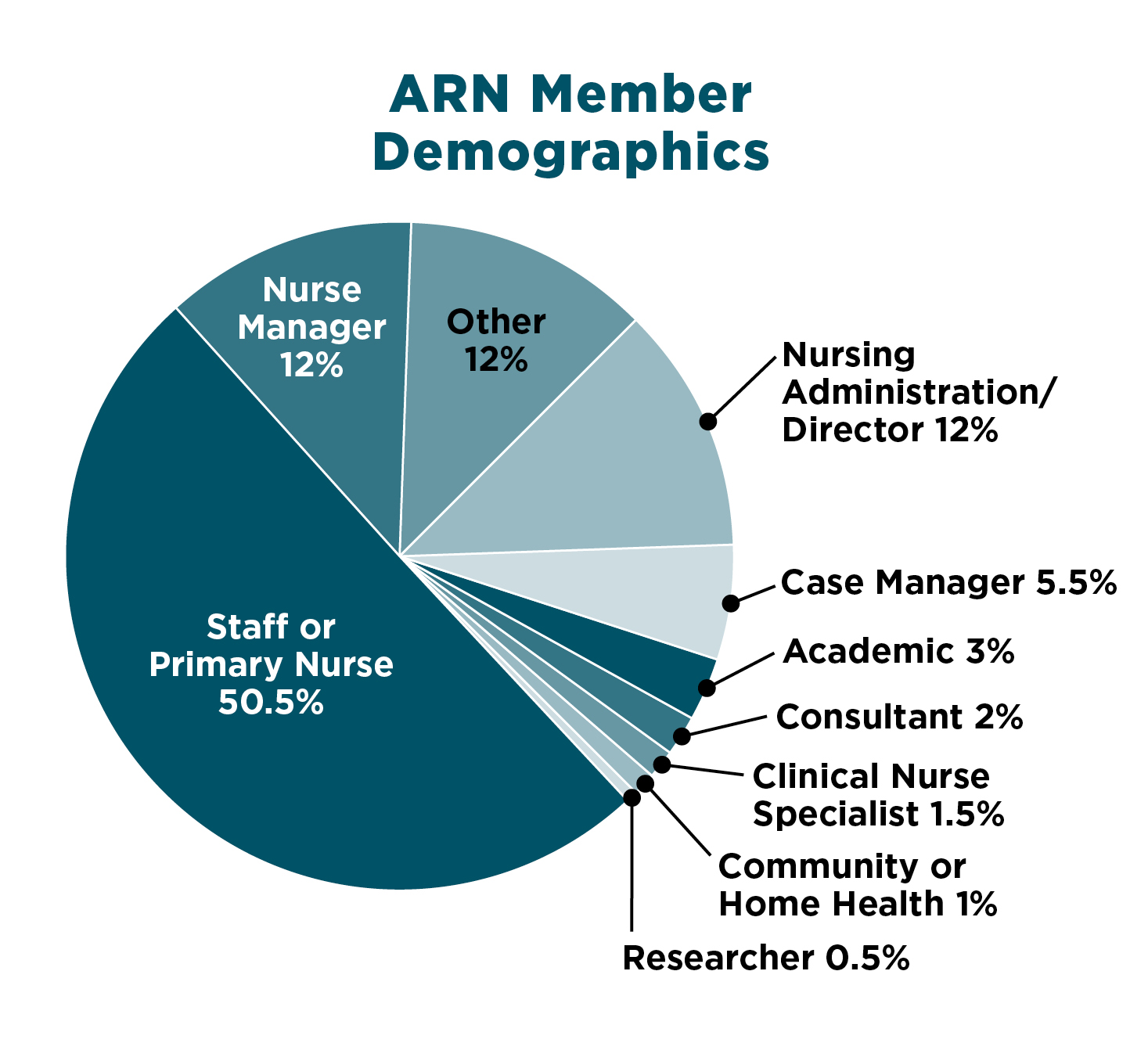 Extend Your Reach, Raise Your Visibility
ARN Corporate Council
Join the ARN Corporate Council and gain exclusive access to ARN leadership and members across the country. Participate in targeted dialogue among key industry representatives who are part of the specialty of rehabilitation nursing.
ARN Institutional Membership
Do you work with or manage a large network of rehab nurses who would benefit from an ARN membership? Receive discounts and benefits for up to 350 nurses. Their member benefits will include an online member community, professional development, and continuing education credits (CEU/CNE), conference exhibits and attendance, and more. Read about the benefits and recognition you receive as an Institutional Member here.
Advertise With Us
We hope you have noticed the advertisements that are prominently placed around the website. Those could be yours! In addition to advertisements, you can connect with our members by purchasing a mailing list or an email blast.
Advertise in one or more of our areas:
Rehabnurse.org website and specific web pages
ARN Pulse Newsletter
RNJ digital and print journal
ARN Career Center
Recruit
Let the rehabilitation nursing community know you are hiring. Post a job or place ads that will reach qualified rehabilitation nursing candidates all over the world in our Career Center.
Support ARN's 2023 Rehabilitation Nursing Conference
This year's 2023 ARN Rehabilitation Nursing Conference will be held both virtually and in person. The in person event runs August 16-18, 2023 and virtual programming runs August 22-23, 2023. Join us by exhibiting both in-person in Providence, Rhode Island and on an online platform. Meet directly with the more than 85% of the rehabilitation professional attendees who are directly involved with purchasing decisions at their facility. Browse our support opportunities to find the ones that fit your company's needs:
Exhibit both in-person and virtually at the ARN Rehabilitation Nursing Conference
Support the conference with various sponsorship and branding opportunities
Gain valuable speaking opportunities to an engaged audience
Advertise to a focused audience through a variety of options
Exhibit and support application
Exhibit
Choose an exhibit space to showcase your products, hire an open position, or to network with industry colleagues. Speaces start at just $2,100 and each booth is 10x10 with multiple spaces available. View more information about exhibit opportunities here.
Exhibitor Badges: Exhibitors are entitled to 4 exhibitor badges per 10x10 exhibit space (any additional to this number are $75 each). You will receive a confirmation email with the portal link and log-in info upon confirming your exhibit opportunity. Exhibit badges do not grant access to CE education sessions, but do provide access to the rest of the conference.
Exhibit Hall Hours: The exhibit hall will be open on Wednesday, August 16th for the opening reception and for the length of the conference on Thursday, August 17th.
Tuesday, August 15, 2023
8am – 5pm Exhibit Hall Set-Up – Tentative Hours
Wednesday, August 16, 2023
8 am-3 pm Exhibitor Move-In – Tentative Hours
5:30-7 pm Welcome Reception
Thursday, August 17, 2023
7am – 8 am Breakfast
7 am-3:30pm Exhibit Hall Open
10-10:30 am Exhibit Hall Break
11:30 am-12:30 pm Exhibit Hall Break & Lunch
2:45-3:30 pm Passport Break (Winners Announced at 3:20 pm)
3:30pm Exhibitor Move Out
Friday, August 18, 2023
8 am-3 pm Exhibit Hall Tear Down – Tentative Hours
*All exhibit hours are subject to change
Complete you exhibitor application here to join the show!
Sponsorship & Advertising Opportunities
Take advantage of branding and sponsorship opportunities: bring attention to your exhibit and gain sponsorship recognition by customizing a support package best suited to your organization's needs.
New Speaking Opportunities for 2023: ARN understands your need to get in front of industry professionals, and what better way to do that then through speaking opportunities? Showcase your company's expertise with a dedicated non-CE symposium or join other industry professionals for sponsored general session discussion. A sponsorship of a keynote speaker provides your company speaking time and high exposure in front of a large audience. Contact

This email address is being protected from spambots. You need JavaScript enabled to view it.

today for more information.
Let's Discuss Opportunities
Please contact Senior Sales Manager, Mickey Martin, This email address is being protected from spambots. You need JavaScript enabled to view it.g or 847.375.4783 to chat about opportunities.