Renew Your CRRN Certification Online Today
Changes to the Eligibility Criteria
Beginning January 1, 2019, the eligibility requirements for CRRN certification renewal have been revised. To renew, CRRNs must meet the following requirements at the time of application:
Current, unrestricted RN licensure
At least 1000 hours of rehabilitation nursing experience as an RN within the previous 5 years
60 points of credit that meet the published criteria.
Previously, renewing CRRNs needed to have two years of rehabilitation nursing practice within the five-year certification period; the number of hours was not a consideration. It is anticipated that this change will make it easier for CRRNs to maintain certification; particularly those who have transitioned in and out of rehabilitation nursing and may have returned to rehabilitation nursing less than two years before their expiration date.
It is important to remember that you do not need to count hours devoted to specific rehabilitation nursing tasks or roles. Rehabilitation nursing is a philosophy of care and is not limited to any specific setting or role. Regardless of the setting or role, if you are working with individuals with physical disability or chronic illness toward the restoration, maintenance, and promotion of optimal health—that is considered rehabilitation nursing.
While you still need a current, unrestricted RN license, 1000 hours of rehabilitation experience within the last five years, and 60 points of credit—you will no longer be required to list your activities on your application. Instead, you just need to attest that you've met the renewal requirements and verify your work experience. We encourage you to complete your application online, or you may complete a paper application. You are strongly encouraged to use the online application. Requests for paper applications may be delayed. The same deadlines apply regardless of which renewal method you choose. All points of credit must be earned prior to submitting your application.

Online applications may be submitted no more than six (6) months prior to your expiration date. At that time, the "submit and pay" button will activate and allow you to submit your application. Deadlines are detailed below. Applications will not be accepted after your certification expiration date. If payment is not made, the application is not considered submitted.
Detailed Renewal Policies and Procedures are available for your reference.
Renew Online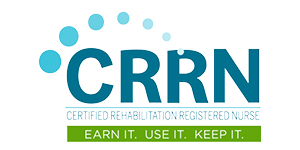 Online Renewal Attestation Is Easy as 1-2-3-4!
When using the online renewal application, we recommend you use Internet Explorer 8, Firefox 10, or newer.
Sign in with your ARN website username and password and confirm that your name is correct. Click Save and Next. IMPORTANT: Do NOT create a new account. If you do not know your username and/or password, please contact ARN at 800.229.7530 for assistance. If you create a new account, it will not be linked to your certification and you will not be able to access online renewal.
After confirming your name, click on the text, Renewal by 60 Points of Credit. Enter contact information for two professional colleagues who will verify you have completed the required experience. One must be another CRRN or your immediate supervisor. The second can be any other professional colleague (e.g. another nurse, physician, social worker, etc). Click Save and Next.
You will see tabs indicating various parts of your application including work history and contact information. The arrows on the right allow you to scroll across tabs. To complete the information, simply click on the tab. Once you enter the information, you must click Save and Next to save the information. A Red Tab Requires Completion.
Review the renewal requirements and Attest that you have:
1. a current, unrestricted RN license;
2. completed 60 points of credit that meet the published criteria within the 5-year certification period; and
3. at least 1000 of rehabilitation nursing experience within the 5-year certification period. (If you are in independent practice, check out the alternative verification process.)
Now you're ready to renew! Click the Attestation Statement box. Once all the tabs have turned green, the Submit and Pay button will become active and you may submit your application and payment.
If you wish to pay by check, fill out the online application, select Save and Print and mail your completed application packet and check to the RNCB, 8735 W. Higgins Road, Suite 300, Chicago, IL 60631-2738. We encourage the use of a traceable delivery service such as FedEx or UPS. If your application and payment are not received by your deadline, your certification will not be renewed.
If you need assistance completing the application, please call 800.229.7530.
If your application is selected for audit, you will be contacted via certified mail and asked to supply the supporting documentation.
2020 Deadlines & Fees
Deadlines are based on the date of submission (online) or postmark (paper-based). If you miss your initial deadline, you will be required to pay a late fee.
The Rehabilitation Nursing Certification Board understands that these recent days have been anxious and uncharted and many of you are on the front line of caring for patients who may be ill or compromised. With this in mind, we are waiving the CRRN renewal late fee. CRRNs due to renew June 30, 2020, may submit the application through June 30 without penalty.
Updated June Renewal Deadline & Fee
Certification Expiration
Application Deadline
Dates to Earn Points
6/30/2020
6/30/2020
Mem Online $280; Paper $320*
NonMem Online $415; Paper $455*
7/1/2015 to 6/30/2020
*CRRNs are strongly encouraged to use the online application. Requests for paper applications may be delayed.
December Renewal
Deadline & Fee
Deadline with Late Fee
Certification Expiration
Application Deadline
Dates to Earn Points
Application Deadline
Dates to Earn Points
12/31/2020
9/30/2020
Mem Online $280; Paper $320
NonMem Online $415; Paper $455
1/1/2016 to 9/30/2020
12/31/2020
Mem Online $380; Paper $420
NonMem Online $515; Paper $555
1/1/2016 to 12/31/2020
If it is necessary to earn additional points during the final 3 months, the renewal fee will be based on the final deadline.
Renewal fees are subject to change.
Refer to your certificate or the renewal chart if you have questions about your certification deadlines.
ARN Membership is not required for CRRN certification, but if you would like to take advantage of the discount to members, your ARN membership must be current at the time of renewal.
If you decide not to use the online system, a paper-based application will be available 6 months prior to your certification expiration date. The application postmark deadline is the last day of the month, three months prior to the certification expiration date. Applications postmarked during the final three months of certification must include the extra fee, as noted above.
CRRN Inactive Status
CRRN Inactive Status is intended to allow current or recently lapsed CRRNs who have experienced traumatic or life-altering events to delay the 5-year time-frame for completing renewal requirements. If you feel you might qualify for Inactive Status, please see the Inactive Status Application for further information.
CRRN-Retired
CRRNs who have retired from the nursing profession may be eligible for CRRN-Retired status.
Important Notice Regarding Deadlines
If renewing online, the application submission deadline is midnight, central time. This deadline applies if you are applying by the regular deadline (March 31 or September 30) or the final deadline (June 30 or December 31). If you have not completed and submitted the application by midnight, central time, you may incur a higher fee or miss the opportunity to renew.
It is your personal and professional responsibility to meet renewal requirements and submit an application on or before the deadline if you wish to maintain your CRRN credential. It is in your best interest to renew well before the deadline to avoid problems and the potential loss of your CRRN certification.
The RNCB is not responsible for
lost, stolen, mangled, misdirected, or postage due mail
applicants' inability to access assistance by phone or email
applications not received due to difficulty accessing the internet, service outage or delays, computer difficulties or other technical difficulties.
Customer services representatives are available Monday-Friday, 8 am to 6 pm central time at 800.229.7530. If calling outside of these times, you will be unable to reach a live operator and if you wait until the deadline to renew, you may be unable to get help with your questions.