Connect with Rehabilitation Nurse Leaders
Exhibit at the ARN Rehabilitation Nursing Conference
ARN Rehab Nursing Conference 2023
Unique exhibit opportunities are available each year at ARN's Rehabilitation Nursing Conference. View the Prospectus for more information.
85% of Attendees are Directly Involved with Purchasing Decisions
Meet directly with the more than 85% of the nearly 1,000 rehabilitation professional attendees who are directly involved with purchasing decisions at their facility. Attendees at the Rehabilitation Nursing Conference represent the following positions and specialties, in order of prominence: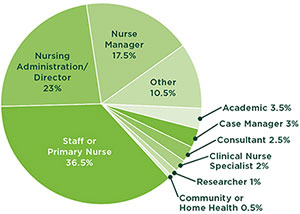 Staff/primary nurse
Nurse manager/administrator
Consultant/educator
Case manager
Clinical specialist
Who Exhibits at the Rehabilitation Nursing Conference?
Our attendees actively engage with vendors in the ARN Resource Center because they are searching for the latest innovations in the these areas of focus:
Areas of Specialty
Brain Injury
Diabetes Care
Wound/Skin Care
Stroke
Spinal Cord
Burns

Cancer Care
Pulmonary Disease Care
Organ Transplant
Major Joint Replacements
ALS, Guillain-Barre Syndrome, MS & Parkinson's Care
Products of Interest to Attendees
Pharmaceuticals
Pressure-Relief Devices
Urological/Incontinence Devices
Nutrition
LVADs
Assistive Devices
Bariatric Beds

Patient Handling & Mobility Devices
Long Term Care
Rehab Nursing Recruitment
Inpatient
Transitional Living
Subacute Care
Electronic Monitoring & Safety Devices
Exhibit at ARN's Rehabilitation Nursing Conference
Exhibiting at the ARN Rehabilitation Nursing Conference connects you with rehabilitation nursing leaders and decision makers. You will receive a virtual listing and a booth at the live conference to showcase our organization and connect with attendees.
Increase Your Impact
This year's ARN Rehab Nursing Conference is presented in a hybrid format, providing you opportunities to reach attendees both in-person and at the live event. Combine opportunities to expand your reach and increase your ROI.
Sponsoring a session, product showcase, or break; participating in the Passport Program; or taking advantage of the Non-Ce Symposia are just a few of the opportunities to increase your visibility at the conference by driving traffic to your exhibit booth.
Hotel Information (Coming Soon)
Exhibit Hall Hours: The exhibit hall will be open on Wednesday August, 16th for the opening reception and for the length of the conferennce on Thursday August, 17th.
Tuesday, August 15, 2023
8am – 5pm Exhibit Hall Set-Up – Tentative Hours
Wednesday, August 16, 2023
8 am-3 pm Exhibitor Move-In – Tentative Hours
5:30-7 pm Welcome Reception
Thursday, August 17, 2023
7am – 8 am Breakfast
7 am-3:30pm Exhibit Hall Open
10-10:30 am Exhibit Hall Break
11:30 am-12:30 pm Exhibit Hall Break & Lunch
2:45-3:30 pm Passport Break (Winners Announced at 3:20 pm)
3:30pm Exhibitor Move Out
Friday, August 18, 2023
8 am-3 pm Exhibit Hall Tear Down – Tentative Hours
*All exhibit hours are subject to change
Floor Plan (Coming Soon)
Let's Discuss Opportunities
Let's chat about how to get involved at the conference. Contact Senior Sales Manager Mickey Martin at This email address is being protected from spambots. You need JavaScript enabled to view it. or 847.375.4783.