RNF Research Grant Recipients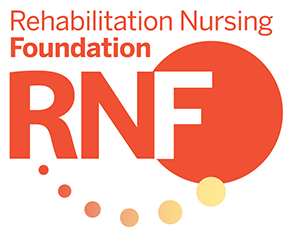 2018: Rozina Bhimani, PhD DNP APRN-CNP CNE
Research Title: Effects of Mobilization Patterns on Spasticity Symptom Cluster: Understanding Functional Outcomes.
2016: Michelle Camicia, MSN, CRRN, CCM FAHA
Research Title: Preparedness Assessment for the Transition Home after Stroke (PATH-s): Testing of Psychometric Properties
2015: Raeann Genevieve LeBlanc, DNP ANP/GNP-BC CHPN PhD(c)
Research Title: The Effect of Social Networks on Self-Care Behaviors and Health Outcomes Among Older Adults Living with Multiple Chronic Conditions
2012: Amy Bok, BSN RN CRRN
Research Title: Rehabilitation Nurses' Experience When an Institutional Older Person Falls
2011: Lisa Salamon, MSN RN GCNS-BC WOCN
Research Title: Discharge Preparedness Instruments and Post-Discharge Outcomes on Two Inpatient Rehabilitation Units
2010: Teresa MacGregor, MSN RN ARNP-BC
Research Title: Understanding Maternal Expectations & Needs Following Neonatal Hemorrhage
2009: Joanne Lester, PhD CRNP ANP-BC AOCN
Research Title: A Feasibility Study to Determine the Effect of Omega-3 Fatty Acids on Urogenital Atrophy
2008: Maryann Abendroth
Research Title: Understanding Caregivers' Decision Process When Choosing to Institutionalize a Relative with Parkinson's Disease
2008: Cheryl Gies
Research Title: Web-based Psychosocial Assessment for Caregivers of Persons with Dementia: A Feasibility Study
2007: Susan Newman
Research Title:Community Integration after Spinal Cord Injury: Identifying Barriers and Facilitators through Photovoice

2006: Mary Catherine Gebhardt
Research Title:Caregiver and Nurse Expectations Regarding the Recovery of the Patient with Acquired Brain Injury

2005: Lelia S. Barks
Research Title:Wheelchair Seating and Pulmonary Function in Children: Rehabilitation Nursing

2004: Margaret Williams
Research Title: The Effect of Using the Adaptive Crawler™ on the Development of Infants with Spina Bifida, Age 6-12 Months

2001: Joan P. Alverzo
Research Title:Orientation and the Onset of Neurological Complications in Brain Injury and Stroke

2000: Wendy Sue Looman
Research Title:Social Capital as a Family Health Resource: Instrument Development

1999: Debra Bournes
Research Title:Having Courage: The Experience of Persons Living with Spinal Cord Injury

1998: Mary Dolansky
Research Title:Older Adults and Cardiac Rehabilitation Outcomes

1997: Linda Pierce
Research Title:The Experience and Meaning of Caring for Urban Family Caregivers of Persons with Stroke.

1996: Nancy Flanagan
Research Title:An Analysis of Patients' Values Before and Six Months After Coronary Artery Bypass Graft Surgery in Relation to Psychosocial Adjustment to Surgery

1995:
Barbara Redman
Research Title:Ethical Conflicts Facing Certified Rehabilitation Nurses (CRRNs)

Shirley P. Hoeman
Research Title:Factors Influencing Self-Care and Actualization for Rural Residing Puerto Rican Children with Spina Bifida

Janet Secrest
Research Title:Differences in Perceived Post-Stroke Quality of Life Among Stroke Survivors, Their Significant Other, and Nurse

1994: Cathy Bays
Research Title:A Description of Hope by Older Adults Following a Cerebrovascular Accident

1993: Yvonne Scherer
Research Title:The Effects of Pulmonary Rehabilitation on Self-Efficacy, Physical Health, Quality of Life and Activity Level in Individuals with Chronic Obstructive Pulmonary Disease

1992: Sandra Scheetz
Research Title:Levels of Functioning in the Chronically Mentally Ill: Norms and Psychometrics

1991: Mary Montufar
Research Title:Quality of Life in Spinal Cord Injured Persons after Colostomy

1990: Ellen Mahoney
Research Title:Managing the Trajectory: Determinants of Self-care in Individuals with Parkinson's Disease

1989: Alexa Stuifbergen
Research Title:Health-promoting Knowledge, Attitudes, and Behaviors of Adults with Disabilities

1988: Kathleen Sawin and June Marshall
Research Title:Developmental Competence in Adolescents with an Acquired Disability
Past Winners of the RNF Fellow Grant
2014: Grace Campbell, PhD BSN RN CRRN MSW
Research Title: A Pilot Study of Falls and Near Falls in Women with Ovarian Cancer Receiving Neurotoxic Chemotherapy

2010: Sharon A. Bryant, RN MPH CRRN
Research Title: Quality of Life in Persons with Dysphagia; Does the Frazier Free Water Protocol Make a Difference?
2009: Marie Boltz, PhD RN GNP-BC
Research Title: Nursing Care Practices and Other Factors Associated with Physical Function in Hospitalized Older Adults
2009: JiYeon Choi, PhD RN
Research Title: Caregivers of Persons on Prolonged Mechanical Ventilation: Mind-Body Interaction Model
2008: Cynthia Peden-McAlpine
Research Title: The experience of community living men with fecal incontinence
2007: Joan Wasserman
Research Title:Measuring Health Related Quality of LIfe in Stroke Survivors and Spousal Caregivers

2006: Anne Deutsch
Research Title:The Early Impact of the Inpatient Rehabilitation Facility "75 percent rule"

2004: Katharine K. O'Dell
Research Title:Pelvic Floor Care Needs and Preferences in Older Women

2003: Gerene S. Bauldoff
Research Title:Wrist Actigraphy During Pulmonary Rehabilitation in Persons with Chronic Obstructive Pulmonary Disease

2002: Carole Ann Bach
Research Title:Rehabilitation Needs of Women with Spinal Cord Injuries

2001:
Linda L. Pierce
Research Title:The Caring~web: A Pilot Study of In-home, On-line Support for Rural caregivers of Persons with Stroke

Teresa L. Cervantez Thompson
Research Title:Rehabilitation Nursing Online: An Analysis of the Breadth and Depth of the Listserv Experience

2000: Robin Remsburg
Research Title:Impact of a Restorative Care Training Program: Improving Quality of Assistance provided by Nursing Assistants at Mealtimes

1999: Janet Secrest
Research Title:The Experience of Nursing Care in Rehabilitation

1998: Kyra Whitmer
Research Title:A Feasibility Study of Exercise, Fatigue, and Breast Cancer

1997:
Mary Burman
Research Title:Trajectory Phases and Management in Rural Stroke Survivors and Their Caregivers

Susan Dean-Baar
Research Title:Validation of the Rehabilitation Nursing Standards of Practice.

1996:
Graham McDougall
Research Title:Rehabilitation of Memory in Older Adults

Jolene Simon
Research Title:Effectiveness of Pain Management Interventions for Older Person with Arthritis
Past Winners of the RNF Rehabilitation Nurse Staffing and Patient Outcomes Study Grant

2013: Kathleen Stevens, PhD RN CRRN NE-BC
Research Title: Nurse Staffing and Patient Outcomes in the Rehabilitation Setting
2007: Audrey Nelson, PhD RN FAAN
Research Title: Nurse Staffing and Patient Outcomes in Inpatient Rehabilitation Settings
Past Winners of the Sigma Theta Tau International-RNF Grant
2008: Esther Chipps
Research Title: Impact of an Oral Care Protocol on Post-Stroke Survivors: A Pilot Study
2006: Beverly Reigle
Reserach Title: Women's Rehabilitation Experiences Following Breast Cancer Surgery"

2005: Teresa L. Cervantes Thompson
Research Title: New Caregivers' Experience of Caring

2004: Cynthia O'Neal
Research Title:The Development of a Normalization Assessment Measure

2003: Janet Secrest
Research Title:Changes in Continuity/Discontinuity of Self in Stroke Survivors: A Reliability, Stability, and Validity Study

2002: Suzanne Dickerson
Research Title:Life Changes in Individuals Diagnosed with Sleep Apnea While Accommodating to Continuous Positive Airway (CPAP) Devices

2001: Cynthia S. Jacelon
Research Title: Strategies Used by Community-Dwelling Elders with Chronic Health Problems to Manage Personal Integrity

1999: Kathleen Brewer-Smyth
Research Title: A Descriptive Study of Neurologic & Neuroendocrine Differences Between Inmates Convicted of Violent versus Nonviolent Crimes in a Women's Correctional Facility

1998: Barbara Lutz
Research Title:Understanding the Consumer's Perspective of Disability and Quality of Life: Implications for Service Delivery
Past Winners of the Oncology Nursing Society Foundation-RNF Grant
2009: Jean Boucher, PhD RN
Research Title:Quality of Life During Rehabilitation: Rectal Cancer Partner Experiences with Altered Bowl Function
Past Winners of the RNF-ANF Nursing Research Grant
2015: Rita McGuire, PhD RN PHCNS-BC
Research Title: Balance Activities And Strengthening To Improve Condition [BASIC]: Training For Elders With Heart Failure
2014: JiYeon Choi, PhD RN
Research Title: Providing Telerehabilitation at Home for Adult Intensive Care Unit Survivors and Their Family Caregivers
2013: Mariam Kayle, RN MSN CCNS
Research Title: Adaptive Challenges for Adolescents with Sickle Cell Disease and their Parents
2012: Rose Ann DiMaria-Ghalili, Phd RN CNSC
Research Title: Body Composition Changes and Late Health Outcomes in Older Adults Undergoing Cardiac Surgery
2011: Jeungok Choi, MPH, PhD
Research Title: Web-based Discharge Instructions using Pictographs: A Pilot Study
2010: Kristy S. Chunta, PhD RN ACNS BS CMC
Research Title: An Interventional Study to Provide Telephone Follow-Up Support to Open Heart Surgery Patients during Recovery
Past Winners of the Mentor Grant
2003: Jennifer Brand
Research Title: Urologic Outcomes and Quality of Life in Children and Adolescents with Neurogenic Bladder: A Pilot Study

2001: Barbara Brillhart
Research Title:
Evaluation of the Internet as a Media for Information and Group Support Among Those with Urinary Management Needs

2000: Jean Wyman
Research Title:Take Control: A Group-Based, Self-Management Program for Women with Urinary Incontinence
Past Winners of the Aventis Grant
2004: Carolee Polek
Research Title: Examining Adherence to Anthrombotic Therapy: A Telephone Intervention

2001: Elaine T. Miller
Research Title: Stroke Impact: Quality of Life and Resources

2000: Joanne Hickey
Research Title: Blood Pressure and Heart Rate Variability for Exercise Decision Making in Stroke Rehabilitation