New Edition of the Core Curriculum, Same Trusted Resource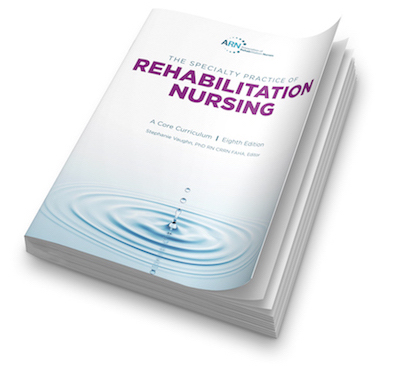 The Specialty Practice of Rehabilitation Nursing: A Core Curriculum, 8th Ed.
With 25 robust chapters of content from across the breadth of the specialty compiled and reviewed by 66 experts, there is no more comprehensive reference on the specialty of rehab nursing. Brush up on the core competencies of a rehab nurse, get updated legal and ethical considerations that affect your practice, and review how to best care for patients from all walks of life.
In this book you'll find case studies, diagrams, and tables you can use on the job, and detailed information on evidence-based practices for assessment and intervention in patient care. Covering all care settings and patient populations, the updated Core Curriculum is the ideal tool for you and your unit. This content applies to
acute and post-acute care
community health organizations
skilled nursing homes
case management
research facilities
academia
clinics.
New Content, A New Format, and New Perspectives From the Field
This exciting new edition of the Core is written in a narrative format instead of the traditional outline and is divided into three sections providing the reader with insightful current information about rehabilitation nursing practice.
New chapters were added to this edition highlighting evidence-based bowel and bladder management for rehabilitation nurses; cancer care and rehabilitation; disaster and mass casualty preparedness, response and recovery; and the Competency Model for Professional Rehabilitation Nursing's application to practice.
Many of the new Core's authors are seasoned leaders in the field of rehabilitation and rehabilitation nursing; however, this Core also touts new authors, all representing different settings and different populations, including clinical practice in acute, postacute, and ambulatory care; Department of Veterans Affairs; and academia. The overarching goal of this edition is to provide a salient rehabilitation nursing resource for the beginner and the advanced nurse in practice.
Read the Table of Contents
This new edition covers the spectrum of care of rehabilitation patients. Use the entire text to refresh your foundation of rehabilitation knowledge or review specific chapters to focus on a particular health condition or element of care.
Read the table of contents below by clicking "read more."
Section One: The Specialty Practice of Rehabilitation Nursing
Chapter 1: Rehabilitation Nursing: Historical Perspectives, Current Practice, and the Future
Chapter 2: The Competency Model for Professional Rehabilitation Nursing: Application to Practice
Chapter 3: Interprofessional Teamwork and Collaboration
Chapter 4: Theories and Frameworks Contributing to Best Practice Models in Rehabilitation Nursing
Chapter 5: Building Rehabilitation Nursing Knowledge and Evidence for Practice Through Research
Chapter 6: Quality and Safety: Performance Measurement and Accountability
Chapter 7: Healthcare Financing and Health Policy in Rehabilitation
Section Two: Environment of Care
Chapter 8: Rehabilitation Nursing Across the Continuum
Chapter 9: Health Promotion and Maintenance
Chapter 10: Physical Healthcare Patterns and Nursing Interventions
Chapter 11: Bowel and Bladder Care
Chapter 12: Psychosocial Health
Chapter 13: Disaster and Mass Casualty Preparedness, Response, and Recovery
Section Three: Caring for Persons with Disability and Chronic Health Conditions
Chapter 14: Pediatric Rehabilitation
Chapter 15: Gerontological Rehabilitation Nursing
Chapter 16: Individuals with Acute and Chronic Neurological Diseases
Chapter 17: Rehabilitation Nursing Care for Survivors of Stroke
Chapter 18: Traumatic Injuries: Traumatic Brain Injury and Spinal Cord Injury
Chapter 19: Rehabilitation for Clients with Musculoskeletal Conditions
Chapter 20: Cardiac and Pulmonary Rehabilitation
Chapter 21: Rehabilitation in Cancer Care
Chapter 22: Other Disease Processes Requiring Rehabilitation Interventions
Chapter 23: Acute and Chronic Pain Management
Chapter 24: Acute and Chronic Complications in the Rehabilitation Client Population
Chapter 25: U.S. Military Veteran Considerations in Rehabilitation Nursing