Attend ARN's Virtual REACH 2019 Annual Conference
Virtual REACH 2019 was a live event, broadcast via livestream to registered attendees. Virtual attendees have access to recorded sessions for 30 days post-conference.
If you are unable to attend REACH 2019 in Columbus, register for REACH Virtual Conference to attend sessions from anywhere and earn CH!
You are eligible for up to 27.75 CH when you view and evaluate the sessions, and view and evaluate ARN REACH 2019 ePosters!
Need support to attend virtually? Simply personalize this justification letter we've created and submit for approval!
November 7-9, Eastern Daylight Time (EDT)
Live Sessions for Rehabilitation Nurses
ARN REACH 2019 Virtual Conference consists of the following sessions to advance your career! Sessions are subject to change.
Thursday, November 7
8 – 9 am EDT
Opening Keynote Session
The Difference You Make: A Brain Injured Patient's Perspective on Healing to Wholeness (101)
Patricia "Trisha" Meili, the Central Park Jogger


9:10 am - 10:10 am EDT
Health Policy
Advocating the Value and Role of Rehabilitation Nurses (102)
Anne Ruggiero, BSN RN CRRN
Jeremy Scott, MA


11:15 am - 12:15 pm EDT
REACH Session 201
The Opiate Crisis: Public Health's Mitigating Efforts
Rebecca L. Ojerinde
The Art & Science of Non-Pharmalogical Pain Management in a Rehabilitation Setting
Jynae Clapper, MSN RN CRRN


1:30 - 2:30 pm EDT
REACH Paper Session 302: Work Environment/Leadership
Changing Culture One Shift at a Time
Shelli Ellis, MSN RN CPN NE-BC
Fostering a Healthy Work Environment
Coleen Rossi, MBA RN CCM CRRN
Making the Most of Your "Human Resources"
Nicole Rostron, RN BSN CRRN CNRN


3:40 - 4:30 pm EDT
REACH Case Study Session 402: Traumatic Brain Injury
How TBI Can Affect Sexual Well Being
Seferina Klinger, RN CRRN BSN
Behavior Management: When Traditional Modalities Fail
Lindsay Hong, MS RN CRRN
Friday, November 8
8 – 9 am EDT
Founder's Address
Stories: REACHing Your Rehab Nursing Potential Starts Here (103)
Linda Pierce, PhD RN CRRN FAHA FAAN


9:10 - 10:10 am EDT
REACH Session 502
Leadership for All: Keeping Your Head Above Water in the Sea of Change
Sue Brown, MSN RN-BC CRRN CCM RNA CMAC


11:30 am - 12:30 pm EDT
REACH Paper Session 601: All Things Stroke
RTW Assessment after Hemorrhagic Stroke: Specialty NP Evaluation
Marissa DeJesus, DNP RN APRN-CNP
Integrated Care Pathway - Stroke Rehabilitation
Raquel Neves, RN MSN
Managing Diabetes after a Stroke
Mary Williams, RN


2:30 - 3:20 pm EDT
REACH Case Study Session 606: Complex Clinical Management
Management of a Difficult Ostomy
Leonard Hughes, RN
Nursing Management of a Patient with a Transplant
Frank Meyers, BSN RN CRRN


3:30 - 4:30 pm EDT
REACH Session 702
Enhancing Capacity: Reengineering Fall and Fall Injury Programs: Infrastructure, Capacity, and Sustainability
Patricia Quigley, PhD APRN CRRN FAAN FAANP
Saturday, November 9
8 - 9 am EDT
REACH Session 801
CARF Update on 2020 New Performance Measurement, Management, and Improvement Standards
Christine MacDonell, FACRM


9:10 - 10:10 am EDT
REACH Paper Session 903: Education for Staff and Patients
Get Comfortable with Teach Back!
Carol Hannibal, MSN RN PCCN CRRN RN-BC
Improving Client Education with Teach Back Method
Deniece Mensah, DNP MS FNP RN
CRRN Tidbits: Promoting Passage of the CRRN Exam
Margaret Williams, PhD RN CRRN FNP-BC FABDA


10:20 am – 11:40 am EDT
Closing Session
Curing Adultitis: Your Prescription for Less Stress and More Success (104)
Jason Kotecki, Artist, Author, Speaker, and Adultitis Fighter
Virtual Conference Registration Rates
ARN Member: $320
Nonmember: $470
This event is intended to be a live experience for virtual attendees. We encourage you to participate during Q&A as if you are at the meeting.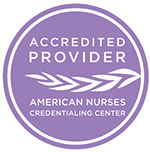 The Association of Rehabilitation Nurses (ARN) is accredited as a provider of continuing nursing education by the American Nurses Credentialing Center's Commission on Accreditation (ANCC). ARN designated this activity for a maximum of 27.75 CNE Contact Hours (CH). You can earn one (1) nursing CH for every 60 minutes of education. You must complete and submit an online evaluation form for each session you attend to receive CH. CH designated for each session are listed in the schedule of events. Participants can earn a maximum of 15 CH for viewing and evaluating ePosters.
℞ – Sessions with this symbol address the use of pharmacologic agents in rehabilitation care and may be recognized for credit toward ANCC Certified Nurse Specialist (CNC) and Nurse Practitioner (NP) recertification. These hours may also be reported to your state board of nursing for relicensure. Credit will be designated on attendee certificates. Attendees are responsible for contacting each governing body to determine content eligibility. It is recommended that attendees retain a copy of the conference brochure and program guide, and print the online session schedule for supportive documentation.