ARN REACH 2019 is the Annual Education Conference for Rehabilitation Nurses
Join your colleagues November 5-9, 2019 in Columbus, Ohio (new location) to help shape your career at the premier educational event for rehab nurses! Celebrate 45 years of the Association of Rehabilitation Nurses and 35 years of the CRRN certification. Don't miss out on this unique and enlightening experience.
Call for Abstracts Now Open
The call for REACH 2019 paper, poster, and case study abstracts is open until April 1, 2019, at 11:59pm PT. Head to the Abstract Portal to get started.
Papers: Research abstracts should include a problem statement, significance, research questions/hypotheses, methods including design and measurement, data analysis, results, discussion, and implications for practice, education, leadership, and/or future research. Abstracts for QI, evidence-based practice or other projects should include relevance and applicability of a specific topic to rehabilitation nursing practice, goal or purpose statement, methods, outcomes, and implications for practice by contributing to nursing knowledge or solving critical problems in rehabilitation.
Posters: A visual presentation. In general, clinical or research posters should include background/significance, methods/approach, results/findings, discussion of results/findings, and implications for practice.
Case Studies: Case studies should reflect advanced clinical nursing practice in a rehabilitation setting and demonstrate implementation of creative, innovative, and evidence-based solutions to a complex patient care problem. Case study presentations should address the following: (1) Case Overview (2) The Nursing Process: assessment diagnoses; plan; implementation of creative, innovative evidence-based interventions; and evaluation including outcomes (3) Evidence of critical thinking
Abstract Portal
Sign Up Today to Receive More Information on REACH 2019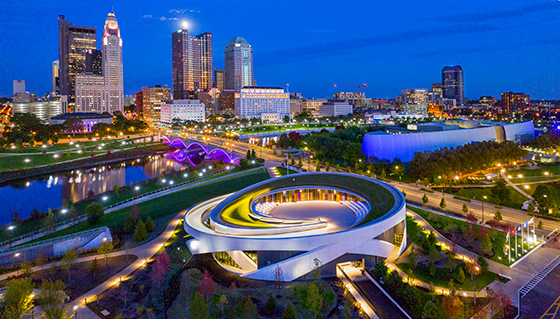 National Veterans Memorial and Museum and COSI, Downtown Columbus
© Randall L. Schieber