Celebrate the Year of the Nurse with ARN
The World Health Organization (WHO) has declared 2020 the Year of the Nurse and Midwife. We're excited to celebrate YOU, our nurses, all year long!
If you have ideas you'd like us to add below or if you doing anything at your facility to celebrate this special year, send your ideas and photos to ARN Operations Manager This email address is being protected from spambots. You need JavaScript enabled to view it..
Share Your Story with ARN
We've already been celebrating the Year of the Nurse in 2020, and now more than ever we want to make sure the contributions of rehab nurses in all areas of the field are shared and highlighted. If you have a story to tell, a message to share, or words of encouragement for your fellow nurses, please post to your favorite social media platform, tag ARN, and use hashtags like #YearoftheNurse, #ThankYouNurses, and #rehabnurse. By doing so, we can build the conversation together, providing us a place to celebrate and commiserate with each other. We'll be sharing these posts on our social media channels, so follow ARN to stay connected.
Let's work together to highlight the efforts of rehab nurses everywhere, and create connections around the world that can get us through this difficult time. Share your joys, sorrows, challenges, and victories with your fellow nurses. We can work together to write the history of this moment and provide an outlet and a community for the rehab nursing community.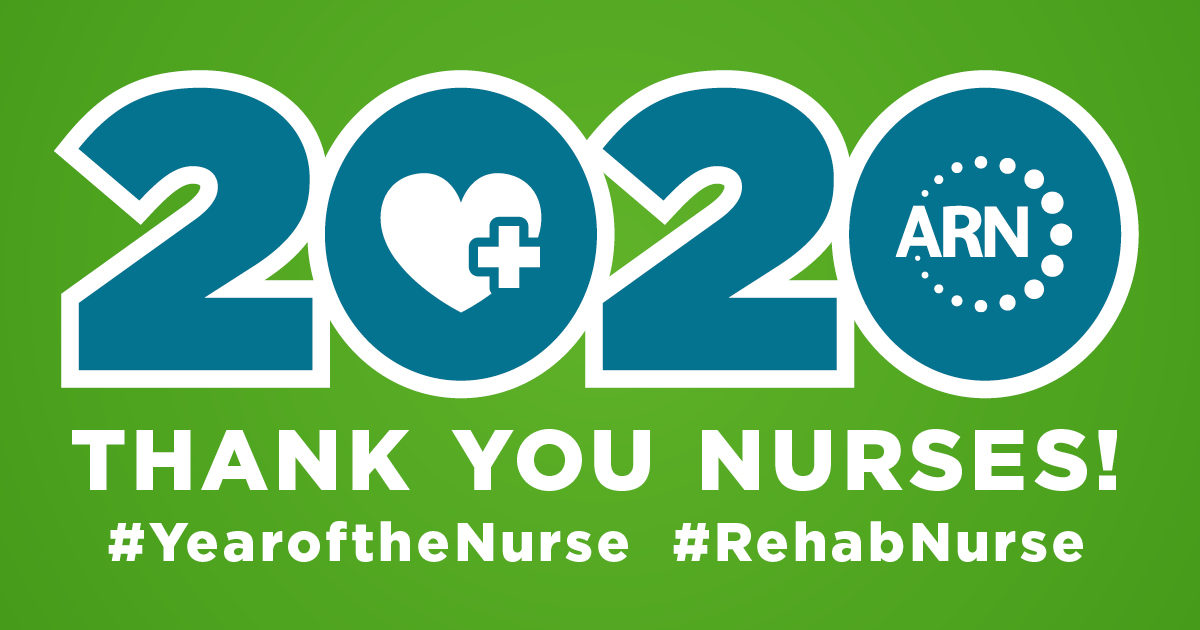 Below are resources we have gathered to help you celebrate. This page will be updated as new resources become available.
Free ANA Nurses Month Webinar
Magnify Your Voice—Use Storytelling to Advance Nursing
Recorded Wednesday, May 20, 2020
When was the last time you told your own story? Attend ANA's FREE National Nurses Month webinar and learn the art of storytelling from a master. Carolyn Jones, award-winning filmmaker, author, and international storyteller, will guide you through the steps to convey your unique nursing journey.
WHO Ways to Get Involved
WHO has identified ways to get involved to celebrate all year round.
19 Must-Have Mobile Apps for Every Nurse
Nurse Journal has identified a list of must-have apps for nurses.
The History of Nursing
Review the History of Nursing, presented by the University of Pennsylvania School of Nursing, to see how nursing has changed since Florence Nightingale pioneering days.
Nursing Facts
Did you know?
22 million nurses and 2 million midwives make up half of the global health workforce.
The world needs 18 million more health workers to achieve and sustain universal health coverage by 2030.
70% of the health and social workforce are women.
Nurses play a critical role in health promotion, disease prevention, and delivering primary and community care.
Coronavirus Resources and Freebies for Nurses
ARN has curated a list of resources for rehab nurses to support you during the pandemic. The page also includes a list of discounts and freebies offered by groups to honor nurses during these trying times.