Celebrate the Year of the Nurse with ARN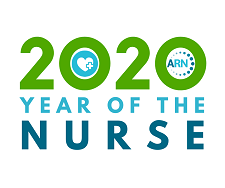 The World Health Organization (WHO) has declared 2020 the Year of the Nurse and Midwife. We're excited to celebrate YOU, our nurses, all year long!
If you have ideas you'd like us to add below or if you doing anything at your facility to celebrate this special year, send your ideas and photos to ARN Operations Manager This email address is being protected from spambots. You need JavaScript enabled to view it..
Share Your Story with ARN
Celebrate this year dedicated to you by helping others understand what you do or your passion for your work. To celebrate The Year of the Nurse, we're asking everyone to share their reasons for why rehabilitation nursing is important or what it means to you. Your perspective will help show who rehab nurses are and how our expertise is needed to improve health. To share your story, post to Facebook or Twitter and use hashtags #YearoftheNurse and #ARN. Your post may be featured in a video during the 2020 REACH annual conference.
Below are resources we have gathered to help you celebrate. This page will be updated as new resources become available.
Free ANA Nurses Month Webinar
Magnify Your Voice—Use Storytelling to Advance Nursing
Wednesday, May 20, 2020
1-2 pm EDT
When was the last time you told your own story? Attend ANA's FREE National Nurses Month webinar and learn the art of storytelling from a master. Carolyn Jones, award-winning filmmaker, author, and international storyteller, will guide you through the steps to convey your unique nursing journey.
WHO Key Dates in May for Nurses
WHO has identified key dates in May 2020 related to the Year of the Nurse.