Professional Rehabilitation Nursing Competency Model
The rehabilitation nursing specialty is practiced in multiple settings across the post-acute care continuum. The Competency Model for Professional Rehabilitation Nursing, created to help guide your practice, embodies domains that reflect all competencies necessary to promote rehabilitation nursing in the current healthcare environment.
click image below to enlarge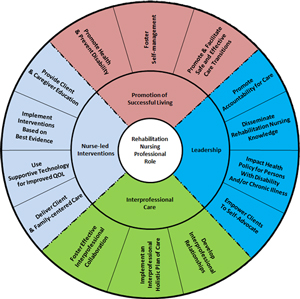 How the Competency Model Evolved
An ARN task force comprised of experts representing clinical and academic settings developed an evidence-based framework to guide professional rehabilitation nursing practice. Charged by the ARN Board of Directors to accomplish this strategic objective, the panel discussed, debated, and reviewed all facets of modern rehabilitation nursing. The resulting model was validated by member review and comment, and approved by the Board of Directors. It identifies 14 essential role competencies across 4 distinct domains.
The Competency Model for Professional Rehabilitation Nursing is depicted by a circle with the professional Rehabilitation Nurse role at the center surrounded by the four domains and various competencies. The broken lines illustrate the crossover of knowledge and skills that are represented in each domain, representing a holistic practice that rehabilitation nurses embrace.
Resources to Implement and Adopt the Model
ARN is pleased to make the following resources available to help facilitate the adoption and integration of the competency model and rehabilitation nursing concepts into school nursing programs in institutes of higher education such as accredited universities and colleges.