The Rehabilitation Nursing Conference
New Format. New Ways to Connect with Rehab Nurse Leaders.
November 10–12, 2021
Throughout the past several months, ARN has been closely monitoring the COVID-19 variants spreading across the US and the world. Due to the pandemic's continued rapid growth and the widely transmissible Delta variant, the ARN Board of Directors has decided to move ARN's 2021 Rehabilitation Nursing Conference to a virtual-only format.
Due to the shift to a fully virtual event, exhibitors and sponsors are eligible to secure alternative options for their exhibit booth, advertising, or sponsored program as noted below.
Virtual Corporate Showcase—$3,000
Virtual Corporate Showcases are a forum for supporters to provide attendees non-accredited educational sessions which highlight a new service or the development of a particular product. This opportunity allows your company to submit a 30-minute, pre-recorded program that will be posted as part of the online curriculum. There are 6 opportunities available for purchase. The presentation will be made available to all attendees during your reserved time and then will be accessible up to 30 days post-conference. ARN will provide Virtual Corporate Showcase hosts with metrics and lead retrieval information from their presentation.
Download the support application
Online Engagement Opportunity—$1,000
As part of the virtual component of the Rehabilitation Nursing Conference, there will be an online reception on a platform called Remo. This platform allows companies to interact in real time as attendees join their sponsored table, providing a virtual conference with a true networking experience. A screenshot of a possible view in the platform is below.
Download the support application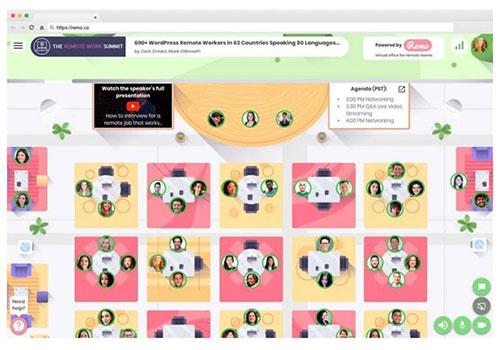 Web Banner Advertising—$1,000
Draw more traffic to your booth or to your company website with a banner ad. This opportunity provides double exposure as it can be viewed by in-person attendees using the mobile app and by virtual attendees while they view content on the platform.
Download the support application
Eblast—Pricing varies
Send a blast email to reach your target audience quickly! Announce the release of a new product; promote your products, services, and events; or drive traffic to your booth with a dedicated email blast sent directly to members from ARN with the option of including nonmember CRRNs. E-blasts are sent by ARN on your company's behalf.
Format details: For the eblast, HTML is preferred. If not available, submit a JPEG (650 pixel width) and links, or else a Word document with any code or links for tracking purposes. If additional images are within the Word document, please provide those JPEG images separately.