The Rehabilitation Nursing Conference
New Format. New Ways to Connect with Rehab Nurse Leaders.
November 9-12, 2021
The ARN Annual Conference has been re-branded as the Rehabilitation Nursing Conference and the 2021 meeting will be a hybrid event providing attendees both an in-person option taking place in Providence, RI, and an online option. Both formats will provide your company support opportunities to connect with attendees in a variety of ways.
Exhibit In-Person
Rhode Island Convention Center—Halls C& D
As ARN makes the return to a live event, our number one goal will be to create an environment in which both attendees and exhibitors feel safe. The same high level of social distancing and safety measures we've come to expect at our local shops and eateries will certainly be the expectation on the show floor as well.
Even with these new precautions in place, the ARN Resource Center will still be more than just an exhibit hall. ARN will host breaks, breakfasts, posters, and industry-led sessions in the Resource Center to increase the amount of time that nurses spend with exhibitors. Maximize the value of nurses' interaction with your organization by providing them educational takeaways. When they turn to you for expertise, they also turn to you for products and solutions.
Booth Rates
10' x 10' $2,000
10' x 20' $3,500
Upgrade your booth to an Institutional Package for an additional $1,500. This upgrade includes:
carpet for the booth
one draped 6' table
two side chairs
one complimentary, in-person attendee registration.
Download an exhibit application
Enhance Booth Traffic by Participating in the Passport Program
As a Passport Program participant, you encourage attendees to visit your booth to obtain card punches on their passports for an opportunity to win prizes. For just $500, your company will be listed as a Passport Participant and your company logo and booth number will be listed on all passport cards. The program is limited to a maximum of 12 participants.
Download the support application
Exhibit Hall Hours
Tuesday, November 9
Exhibitor set-up 8 am–4:30 pm
Welcome reception in exhibit hall 5–6:30 pm
Wednesday, November 10
Exhibit Hall open 8 am–4 pm
Thursday, November 11
Exhibit Hall open 8 am–3 pm
Exhibitor tear down 3–7:00 pm
Become a Sponsor of the In-Person Event
If you are attending in person, consider sponsoring a session, giveaway item, or break as just a few of the additional opportunities to increase your visibility at the Rehabilitation Nursing Conference and drive traffic to your exhibit booth. ARN offers many opportunities for exhibitors to increase their visibility at the conference, as well as engage and increase your impact with conference attendees.
Tote bag $6,000
General session $5,000
Lanyard $4,000
Masks with company logo $3,500
Hand sanitizer station $3,000
Coffee break $2,500
Coat check $1,500
Download the support application
Web Banner Advertising—$1,000
Draw more traffic to your booth or to your company website with a banner ad. This opportunity provides double exposure as it can be viewed by in-person attendees using the mobile app and by virtual attendees while they view content on the platform.
Download the support application
Virtual Corporate Showcase—$3,000
Virtual Corporate Showcases are a forum for supporters to provide attendees non-accredited educational sessions which highlight a new service or the development of a particular product. This opportunity allows your company to submit a 30-minute, pre-recorded program that will be posted as part of the online curriculum. There are 6 opportunities available for purchase. The presentation will be made available to all attendees during your reserved time and then will be accessible up to 30 days post-conference. ARN will provide Virtual Corporate Showcase hosts with metrics and lead retrieval information from their presentation.
Download the support application
Online Engagement Opportunity—$1,000
As part of the virtual component of the Rehabilitation Nursing Conference, there will be an online reception on a platform called Remo. This platform allows companies to interact in real time as attendees join their sponsored table, providing a virtual conference with a true networking experience. A screenshot of a possible view in the platform is below.
Download the support application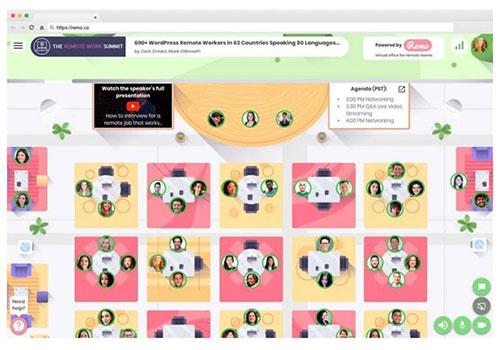 Eblast—Pricing varies
Send a blast email to reach your target audience quickly! Announce the release of a new product; promote your products, services, and events; or drive traffic to your booth with a dedicated email blast sent directly to members from ARN with the option of including nonmember CRRNs. E-blasts are sent by ARN on your company's behalf.
Format details: For the eblast, HTML is preferred. If not available, submit a JPEG (650 pixel width) and links, or else a Word document with any code or links for tracking purposes. If additional images are within the Word document, please provide those JPEG images separately.
Show Support During Both Formats as an Overall Sponsor
If you're looking to extend your reach to both virtual and in-person attendees, investing in sponsorship at one of the levels below (with any combination of items from above) will gain you additional recognition and visibility:
Gold—$10,000
10' x 10' booth at live event
Upgrade booth to institutional package
Virtual Corporate Showcase
Web banner advertisement
Virtual sponsorship of networking table
One eblast sent to attendees prior to conference
Participant in the Passport Program
Recognized as a Gold sponsor, which includes

Your logo on the ARN website
Your logo on signage at conference
Verbal recognition during the event
Silver—$7,500
10' x 10' booth at live event
Web banner advertisement
Virtual sponsorship of networking table
One eblast sent to attendees prior to conference
Participant in the Passport Program
Recognized as a Silver sponsor, which includes

Your logo on the ARN website
Your logo on signage at conference
Verbal recognition during the event
Bronze—$5,000
10' x10' booth at live event
Virtual sponsorship of networking table
Participant in passport program
Recognized as a Bronze sponsor, which includes

Your logo on the ARN website
Your logo on signage at conference
Verbal recognition during the event
Download the support application