3 minutes reading time
(506 words)
ARN Past-President Patricia Quigley, PhD MPH APRN CRRN FAAN FAANP FARN, Bestows President's Award to Mary Ellen Hatch, MSN RN CRRN FARN, and Maureen Musto, MS RN APRN-CNS ACNS-BC CRRN FARN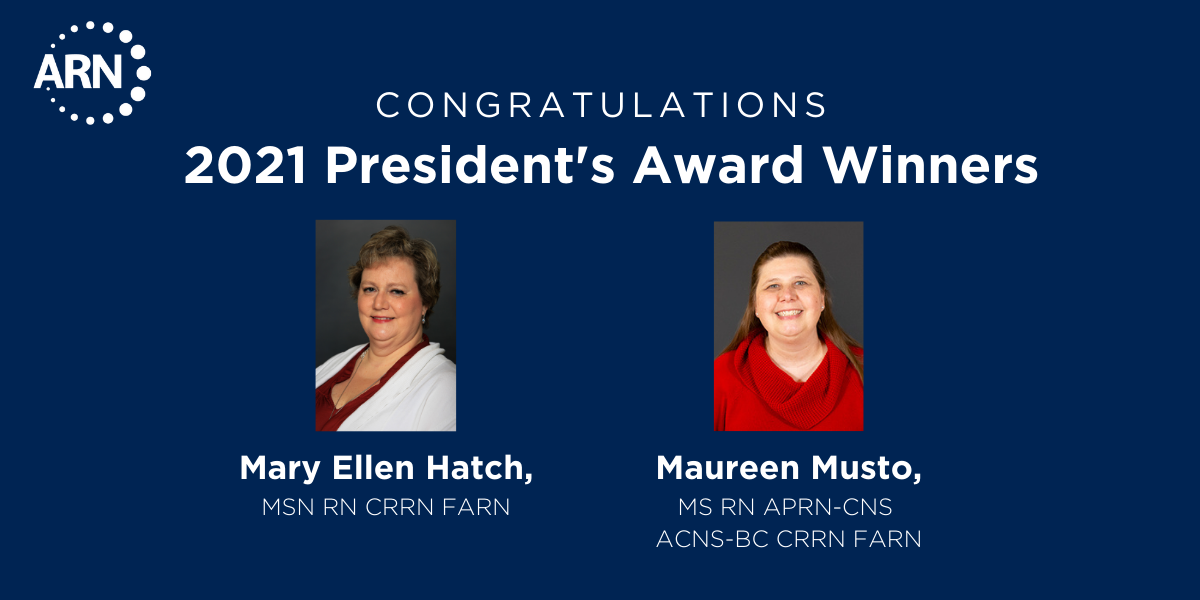 The Association of Rehabilitation Nurses (ARN) Past-President Patricia A. Quigley, PhD MPH APRN CRRN FAAN FAANP FARN, awarded Mary Ellen Hatch, MSN RN CRRN FARN, and Maureen Musto, MS RN APRN-CNS ACNS-BC CRRN FARN, the 2021 President's Award. The award, which recognizes outstanding contributions to the field of rehabilitation nursing, was presented at ARN's 2021 Rehabilitation Nursing Conference.
A long standing ARN member for 25 years, Mary Ellen Hatch's leadership theoretical framework, and servant leadership, inspires engagement of rehabilitation nursing staff at all levels toward unmeasurable numbers of RNs who, like her, have acquired such passion and commitment to rehabilitation nursing, and become active ARN members. For years, she has inspired rehabilitation nurses to serve as appointed and elected volunteer leaders, present at chapter and national levels, and advance their careers through education and career opportunities. Her joy and value of membership in ARN and rehabilitation nursing is palpable, advancing the profession of nursing in rehabilitation throughout all levels of nursing practice.
Role aspects that set nurse administrators apart are leadership, staff engagement, knowledge, skills and competencies in organizational excellence, advance evidence-based practices as well as mentoring staff to inspire and shape their practice and careers. Her over 10-year experience as a rehabilitation nurse executive, Mary Ellen's impact has transformed nurses' professional engagement in rehabilitation nursing by her commitment to CRRN Certification, ARN Membership, ARN Distinguished Member Service Recognition, and her many presentations and awards.
Her influence as the Vice President of Nursing Operations at Encompass Health to ARN's national strategic plan and vision has proven invaluable in elevating the respect and recognition of the challenges of post-acute care rehabilitation. Ms. Hatch's career trajectory exemplifies an expert nurse administrator, educator, mentor, change agent, leader, and consultant.
Maureen Musto's contribution to rehabilitation, rehabilitation nursing and influence on ARN and the specialty of rehabilitation nursing has endured over her membership in ARN since 1996. Maureen's career services and contributions are woven into the Fabric of ARN, Central Ohio Chapter of ARN.
Ms. Musto is a proven and awarded influential Rehabilitation Clinical Nurse Specialist and policy advocate through nursing, rehabilitation, evidence-based practice and rehabilitation interdisciplinary organizations, whose admirable voice, vision, and passion for rehabilitation nursing have significantly benefited population-based practice, evidence-based practice, national and chapter viability, and in 2020, the World Health Organization (WHO), for membership and contributions to Development Group for Traumatic Brain Injury (TBI) that produced the WHO Package of Interventions for Rehabilitation, for which she received international commendation.
Many advanced practice nurses are mentors. Maureen has elevated mentorship to a new level. She has mentored nurses and interdisciplinary team members for clinical projects, their first presentation followed by elevation to state and national levels and tracked their expanded level of dissemination, progression of their careers, and for nurses, their involvement in ARN. Mentorship is successful when relationships between mentee and mentor are trusted, rewarding and thrive. The career outcomes because of her passion for our specialty are a tribute to Maureen's essence as a person, colleague, and rehabilitation CNS.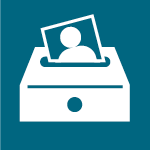 Submit a Member Spotlight!
Recognize a fellow member for noteworthy successes by nominating them for a Member Spotlight!
Learn More