3 minutes reading time
(690 words)
ARN Expands Member Appointments at the National Level with Three NQF Committee Appointments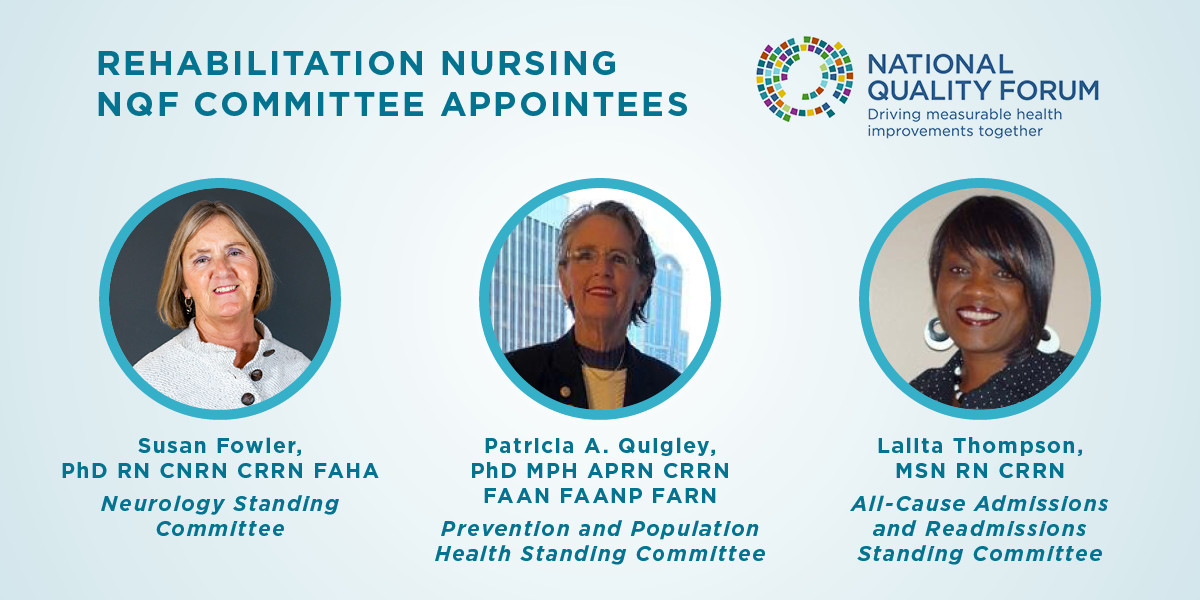 ARN is proud to announce that three ARN members have been officially appointed to National Quality Forum (NQF) committees. NQF's mission is to promote and ensure patient protections and healthcare quality through measurement and public reporting. The ARN and NQF work hand in hand to support quality health care delivery. This partnership now includes three ARN appointees who will provide vital rehabilitation nursing perspectives to the following national NQF Committees:
Susan Fowler, PhD RN CNRN CRRN FAHA — NQF Neurology Standing Committee
Dr. Susan Fowler is a member of the Florida Chapter of ARN and serves on the ARN Board of Directors. Dr. Fowler has been a RN for 42 years with a clinical focus in critical care, the neurosciences, and rehab. She is an expert in research and evidence-based practice, serving in positions as a clinical nurse researcher/nurse scientist, and primarily teaching at the master's and doctoral levels of education. Dr. Fowler will be the sole representative for nurses as the only nursing professional on a six-member panel of physicians and a patient advocate. The Neurology Standing Committee oversees NQF's neurology measures and addresses diagnosis, treatment, and procedures for neurological conditions. As part of the committee, Dr. Fowler will also be evaluating areas where measures are inadequate and/or lacking, such as Parkinson's disease, multiple sclerosis, muscular dystrophy, Alzheimer's disease, and dementia.
Patricia A. Quigley, PhD MPH APRN CRRN FAAN FAANP FARN — NQF Prevention and Population Health Standing Committee

​
Dr. Patricia A. Quigley is the 2020-2021 President of the Association of Rehabilitation Nurses and is a member of the Florida Chapter of ARN. She is a nurse scientist, nurse consultant, and advanced practice registered nurse; former associate chief, nursing services for research at the James A. Haley VA Medical Center in Tampa, FL; and former associate director of the Veterans Integrated Services Network-8 Patient Safety Center of Inquiry. She will be one of two nurses on an eight-member panel of physicians, researchers, and rehabilitation therapists. The Prevention and Population Health Standing Committee oversees NQF's prevention and population health measures. Measures in this portfolio focus on healthy lifestyle behaviors and community interventions that improve health and well-being, as well as social and economic conditions.
Lalita Thompson, MSN RN CRRN — NQF All-Cause Admissions and Readmissions Standing Committee

​
Lalita is a member of the Southeast Texas Chapter of ARN and is a past chair of the ARN Chapter Support Committee. She is also the TIRR Memorial Hermann Baclofen Pump Program coordinator accountable for leadership, education, volunteer services, and clinical support. Lalita will be one of two nurses serving on a nine-member panel consisting of physicians, a health policy professor, and a subject matter expert. The All-Cause Admissions and Readmissions Standing Committee focuses on the reduction of avoidable admissions and readmissions across the healthcare system. As part of the committee, Lalita will be contributing to this cause by reviewing measures addressing the length of stay, all-cause admissions, and hospital readmissions from applicable settings, such as skilled nursing facilities and inpatient rehabilitation facilities.
The appointment of three ARN members to national committees is a reflection of ARN's vision that exemplifies the necessity for the rehabilitation nursing profession to be present at all policy tables. We're looking forward to the initiatives and valuable recommendations that NQF will release in the following year.
Get Involved!
To increase ARN's voice at the table, we need you to volunteer! When opportunities are announced, contact us at This email address is being protected from spambots. You need JavaScript enabled to view it. to let us know of your interest and we will help you with your application. To serve ARN directly, check out the opportunities listed on our volunteer page.
Were you recently appointed to a committee or involved on a national level? We'd love to spotlight your leadership!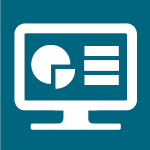 Expand Your Rehab Nursing Knowledge
The ARN Foundations curriculum is for nurses at every career stage looking for rehab-centered education to improve their practice.
Learn More