2 minutes reading time
(457 words)
RNJ Trending Topics: March and April
If you are an ARN member or a Rehabilitation Nursing Journal (RNJ) subscriber, you should soon receive your March/April issue in the mail. Check out a preview of the articles that will be gracing the pages of this issue or visit the journal online to read the full issue.
Trending Topics - ​Rehabilitation Nursing -

​March/April 2023 Issue
Immobility and the High Risk of Not Recovering Function in Older Adults: A Focused Ethnography

A focused ethnography design was used to explore the experience of older adults with immobility post-hospitalization. As might be expected, immobility, for older adults who were previously independent, was life-changing and distressing. The authors also note that lingering problems with immobility are frequently over-looked. Recommendations to address these issues are included in the article
Moersch, L., Vandermause, R.K., & Fish, A.F. (2023). Immobility and the high risk of not recovering function in older adults: A focused ethnography. Rehabilitation Nursing 48(2)

Noticing Acute Changes in Health in Long-Term Care Residents
Early signs of acute clinical issues with long-term care residents often go unrecognized. This study sought to understand how health care staff identify and act on these changes in this population. Focus groups from two VA long term care facilities were conducted. The authors determined there was a lack of formal methods and tools to communicate the changes, thus prolonging treatment.
Bowen, M., Rowe, M., Flynn, A., Basehore, H., & Shin, Y.S. (2023). Noticing acute changes in health in long term care residents. Rehabilitation Nursing, 48(2)

Effects of the Interruption Management Strategy "Stay S.A.F.E." During Medication Administration
There are a large number of patient deaths each year, and medication errors are often the most common error resulting in death. Some errors occur during an interruption in the administration of a medication. Experienced nurses are aware of the effect and danger of such interruptions. However, for nursing student and new graduate nurses, this is a new issue. Authors in this study measured the impact of the STAY S.A.F.E. intervention on nursing students' management of and response to interruptions during medication administration. Eye tracking of students' eye movements determined focus, time to return to the primary task and performance including procedural failures and errors.
Vital, C. J., & Nathanson, B. (2023). Effects of the interruption strategy,

"STAY S.A.F.E." during medication administration. Rehabilitation Nursing, 48(2)​
Tell us what you'd like to read
Submit an article to the RNJ
Our members have an opportunity to share stories of your professional experiences. Learn more about being featured in 'This n' That' in the RNJ here.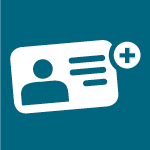 Join ARN!
Become an ARN member today to achieve your professional goals as a rehabilitation nurse.
Join Now