2 minutes reading time
(461 words)
RNJ Corner: Odds and Ends
We were notified by LWW, Rehabilitation Nursing Journal's publisher, that the impact factor (IF) for 2020 was 1.645. This is an incredible jump from last year's factor of .931. So, what is an impact factor and why are we journal folks so excited about it? Each year in June the journal receives an IF from Journal Citation Reports. This organization tracks citations from 20,000 journals from 113 countries. Journals are from the sciences, arts and humanities, and the social sciences.
What is a citation? A citation is when an author of a published article in any journal 'references' or 'cites' information from an article in RNJ. Our 2020 number is based on the number of citations in 2020 from RNJ articles that were published in 2018 and 2019. This number is then divided by the number of journal articles we published in 2018 and 2019.Although there are many ways to describe the success of a journal or its impact on practice, the IF is an external objective measure of a journal's significance.

The writing mentor program has been mentioned in several past articles. To date, I haven't had anyone respond, but I remain open to talk and mentor, whether it's a potential manuscript you are thinking about writing or the actual writing of an article. Please let me know if you would like assistance. My email address is: This email address is being protected from spambots. You need JavaScript enabled to view it.
Each year the journal has offered a 50-minute presentation during annual conference on how to develop a manuscript for publication. I will be doing a presentation on writing in RNJ this year in Providence. Although I will talk about the RNJ process of submitting a manuscript and peer review, the main focus of the presentation is on how to develop a manuscript. I look forward to seeing you in Providence at ARN's Rehabilitation Nursing Conference!
On August 25 at 12 pm CT, I will present a webinar on "Writing a Publishable Clinical Manuscript". This webinar focuses specifically on writing clinical papers. Webinar registrants are invited to join members of the RNJ Editorial Board and myself on August 26 at 9 am CT for an RNJ Consultation Session. The consultation session will allow registrants to meet with RNJ Editorial Board members face-to-face on Zoom and ask questions and solicit feedback on manuscript ideas.
Pamala D. Larsen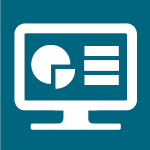 Expand Your Rehab Nursing Knowledge
The ARN Foundations curriculum is for nurses at every career stage looking for rehab-centered education to improve their practice.
Learn More