The Importance of Nursing Certification
With more than 13,000 current certificants, the CRRN credential has been widely recognized and respected for more than 30 years. CRRN is the credential for nurses who assist individuals with disabilities and chronic illness to restore, maintain, and promote optimal health.
When you earn your CRRN, you validate your professional standing as an experienced rehabilitation nurse with a documented level of knowledge and your commitment to patient care. Employers who encourage nurses to get certified or hire CRRNs create an environment that shows their commitment to their team and their patients. They want to recruit and retain the very best nursing talent.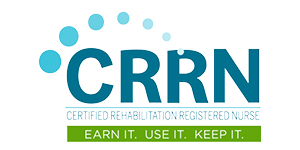 As a Rehabilitation Nurse you practice your specialty in a variety of roles, across many settings, including:
sub-acute care units
inpatient and outpatient rehabilitation units and hospitals
long-term acute-care hospitals
skilled nursing facilities
community/home health agencies
clinics
insurance companies
private practice
government/VA
academic settings.
Demonstrate Dedication and Expertise
Inspire your nursing team or others to pursue CRRN certification this year by sharing this PDF
When you earn, continue to use, and then keep your CRRN designation, you demonstrate your dedication and expertise to the rehabilitation specialty. The CRRN credential requires two years of experience in rehabilitation nursing and that you pass the CRRN examination validating a documented level of knowledge of the specialty.
CRRN Statistics
| | | | | |
| --- | --- | --- | --- | --- |
| Year | Total # of candidates | # of passing candidates | # of failing candidates | # of CRRNs renewing |
| 2017 | 1,309 | 965 | 344 | 1,341 |
| 2018 | 1,536 | 1,140 | 396 | 1,516 |
| 2019 | 1,604 | 1,201 | 403 | 1,612 |
| 2020 | 1,119 | 796 | 323 | 1,721 |
| 2021 | 1,352 | 927 | 425 | 1,692 |
| 2022 | 1,087 | 813 | 274 | 1,411 |
All CRRN Applications